Personal Injury The results of a car accident can be physically, emotionally, and financially devastating and can affect you for the rest of your life. Unfortunately, insurance companies will make every attempt to settle any and all claims as soon as possible.

Wrongful Death Dealing with the loss of a loved one is already difficult enough, but knowing that the loss was caused by someone else's negligence only adds to the grief.

Estate Planning Most people rather not think about their death, and many people don't, until it's too late. Perhaps the only thing more difficult than imagining leaving behind your family is the thought of them fighting over the things that you left behind rather than cherishing your memory.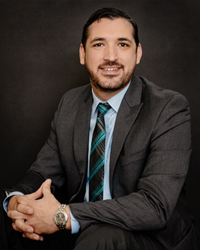 Dylan Heard is a partner at the Vincent & Heard Law Offices and a proud Acadiana native. Prior to graduating from Lafayette High School in 2004, he spent 5 years studying at Escuela Bella Vista in Maracaibo, Venezuela. Dylan earned his Juris Doctorate Degree from the University of Alabama School of Law in 2014 and was admitted to the Louisiana Bar in 2015. Prior to law school, Mr. Heard attended Universal Technical Institute in Houston, TX where he graduated with a certification in automotive technology. Dylan went on to earn a Bachelor of Science degree in economics from Louisiana State University in 2009 where he graduated cum laude. Outside of the office, Dylan enjoys spending time with his wife, two children, and their many pets.
Dylan's area of practice primarily includes personal injury, estate planning, and civil litigation. Dylan regularly practices in the 15th Judicial District Court which includes the parishes of Lafayette, Vermilion, and Acadia. He also has extensive appellate experience which includes overturning a contested adoption. Dylan has also represented clients in the federal Western District of Louisiana in bankruptcy and employment discrimination cases. Dylan is a member of the Lafayette and Acadia Parish Bar Associations and formerly served as President of the Acadia Parish Bar.
---